San Luis Potosí, Mexico
WorldGenWeb
While you are vacationing in Mexico, don't forget to pick up some names from the cemeteries, locations of courthouses, churches, or anything genealogically or historically relevant that you pass or at least the names and locations of them. This will be most helpful. To submit them, please email me.


Cemeteries Please look and see All the Opportunites for Transcription work! We Need you to make this possible for those researching their families.

Our partial listing of
Churches in the State of San Luis Potos
í, has grown as of 5/6/2006 and keeps growing thanks to members like you
. To donate Church info, please email
me.


New!!

Newspapers/ Periodicos


Links
Corpus Christi Library
AOL Hispanic Genealogy's Mexican State Archives Listing
Cyndi's List- Hispanic, Central & South America, & the West Indies
Universidad Autonoma de San Luis Potosi
Visit the MexicoGenweb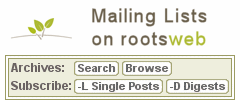 WorldGenWeb Review E-Zine
WorldGenWeb Review E-Zine was created to keep the visitors and friends of the WorldGenWeb Project informed about what is happening in the WorldGenWeb Project. It provides helpful information on how to utilize the WorldGenWeb Project as well as resources to assist you in your research.
We invite you to subscribe to the WorldGenWeb review by sending a message to
worldgenweb-review-l-request@rootsweb.com
with the word "SUBSCRIBE" in the body of your e-mail message.


The WorldGenWeb Project was created by Dale Schneider in 1996 to answer the ever growing needs of genealogists all over the world who were trying to research their ancestors. The goal is to have every country in the world represented and hosted by hosts who either live in that country or are familiar with that countries resources. Many countries have been adopted by Hosts who are available for assistance in doing genealogy, posting queries, and general information about the country. Please don't ask them to do research for you as there should be a page under each country for "lookups", people who are willing to look up information and to do paid research. At this time, many of the Hosts do not live in the country they sponsor and have no access to the records, only the computer. There are many countries available for Adoption. If your link is missing or you would like more information about adopting a country please contact the WorldGenWeb Board or NorthAmGenWeb Sponsors.
ARCHIVES
The WorldGenWeb Project now maintains the WorldGenWeb Archives, in cooperation with the Rootsweb Project. They are located at WorldGenWeb Archives. If as a host, you have files you would like to donate and have archived, please contact the Webmaster.




Se habla Español.

Created by: Rosanna Urban Parra
Host of San Luis Potosi, Mexico
Original design by
Mike Jarvis
Last Updated : May 6, 2006


Copyright 2003 by Go-Southwest and Boise Matthews and Michelle Peterson. URL: http://go-southwest.com.