Welcome to
Musselshell County Montana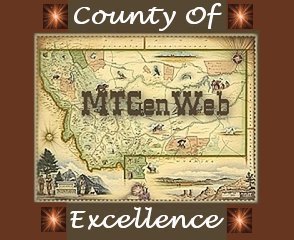 December 2016
I am Jane Keppler, the county coordinator for Musselshell County Montana. I do not live in Musselshell County so I cannot do research. If you have resources and would like to volunteer to do lookups, just email me......

I am looking for a co-coordinator so if you are interested in helping to maintain this website, just email me......
**Neighboring Counties**
Big Horn County Golden Valley County Petroleum County
Rosebud County Treasure County Yellowstone County
Other research
Find the State a SSN was issued
WE NEED YOUR HELP! Musselshell County MTGenWeb Project needs your records.
Please submit anything which maybe of value to other researchers: Bible records, marriage records, wills, pension records, land records, death and obituary records, photos, and old letters. County, community, church, and school histories. Your help in helping other researchers is vital to the success of the MTGenWeb Project.
Just contact Jane Keppler with your information or questions.
photo by Larry D. Moore or Image by Larry D. Moore, used under a Creative Commons ShareAlike License
Picture submitted by Julia Dodson. This sign hangs on the south side of Roundup.
Page Modified: 28 July 2017
Copyright © April 3, 2012-present by Jane Keppler. This information may be used by individuals for their own personal use, libraries and genealogical societies. Commercial use of this information is strictly prohibited without prior written permission from Jane Keppler. If material is copied, this copyright notice must appear with the information and please email me and let me know. Neither the Site Coordinators nor the volunteers assume any responsibility for the information or material given by the contributors or for errors of fact or judgment in material that is published at this website.