Best viewed at 1024 X 768
God Bless America
Juvenile Diabetes Research Foundation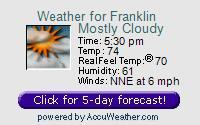 I'm Taylor Christy
This is me recieving my Sky Puppy Award
The nice lady with me is Georgie June the BBAA ALCOR
Photo by Ted Forte
and I'm Granddad (Cliff Hedgepeth)
We are both members of Southampton Astronomers, Back Bay Amateur Astronomers, Northern Virginia Astronomy Club, Norfolk Astronomical Society and The Astronomical League. Taylor is 14 and Granddad is older than dirt.
This is Taylor and Cliff with their Celestron C8
This is Taylor and Cliff at Green Bank Radio Telescope, WV
Pictures from 2006 Almost Heaven Star Party
Our equipment includes an Orion XT 12 Intelliscope, a Celestron 8" SCT and Orion SpaceProbe 130 mm newtonian reflector on an EQ mount. Taylor has an Orion XT 4.5" Dobsonian Newtonian and Bushnell 10 X 50 binoculars and Cliff has Barska 15X70 and No name 20x60 Binoculars.
Adding GSO Crayford Focuser to Orion Intelliscope
Our Awards
Taylor has recieved The Astronomical League's new Sky Puppies award, Certificate number 2 and Outreach Award # 28.
Cliff has received the Lunar Club Certificate number 374, the Honorary Messier Club Certificate number 2135,

Binocular Messier Award Certificate #691, Globular Cluster Club #48, Open Cluster Club #9, Double Star #366, Urban Club #105,

Outreach Award # 27, and Northern Constellation Hunter.

#37

Astronomy Day 2006

Pictures from the Spring 2006 East Coast Star Party

Cloverwatch 6/17/2006

2006 4h Camp at Airfield

Pictures from 2006 BBAA Picnic
Current Solar Image
Current Lunar Phase
Join our Astronomy Tinkerers Yahoo Group

Click to join astrotinker
Some Clubs We Belong To.
Click on Club Logos for Information.
Links
Heavens Above
Camera Concepts
Hands on Optics
Willman-Bell
Globular Clusters
Chesapeake Planetarium
Virginia Living Museum
Virginia Beach Planetarium
Morehead Planetarium
Science Museum of Virginia
RASC
Astronomy Links
Distant Suns (Nice software)
Virtual Moon Atlas
Stargazer (Dale Cary)
Ron Robisch
Kathy's Astronomy Web
George Reynolds, Solar System Ambassador
E mail Us